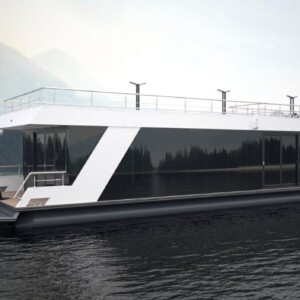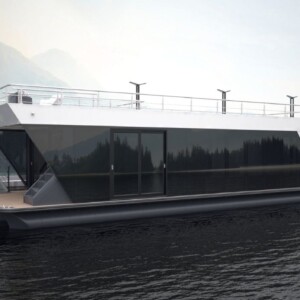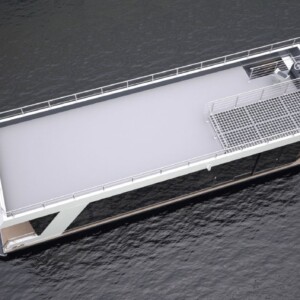 Previous
Next
The recreational trimaran Athena 160 is one of the biggest models we produce now.
This large and well-equipped boat is a great living solution. You can live here with your family. We even can call it a luxury apartment on the water with all you need for happy moment with your family.
Solar panels will cover your needs for electricity. All the engineering systems will make you feel independent and safe.
Measures                                    15,70 x 4,50 m
Possible measures
12,0 x 4,0 m
15,0 x 4,5 m
15,0 x 6,0 m
Number of pontoons:           3
Number of decks:                   2
Living area:                                 46,41 m2
Total area:                                   106,07 m2
Category D*
Construction
All-aluminum platform and upper deck construction
Pontoon – PE rotation technology inside 100% volume polyurethane foam | Unsinkable
Stainless steel railings (upper deck)
Lower platform
Deck teak synthetic board
Plastic form stairs to the upper deck
Upper deck Plywood Heksa plus cover
Double darker glasses (like in the buses)
Boat lifting system (2 travers, 4 ropes, 4 mounting units)
Rubber shock absorber
Side safeguard protection 4pcs (banana)
Mooring ropes 2 pcs x15m
Engineering systems
2 x HD batteries up to 400 Ah
1 x starting battery
Battery isolator
Battery monitor
Central power-off system
Inverter/charger 1.2 kW Victron Multi Plus
2 x solar panels
Shore power charging
Webasto Marine air heater
1 x LPG-balloon (steel, 11kg) + balloon box on the rear deck
Sockets in the living area
Navigating
Universal hydraulic steering system
Steering console with helm, screen, and indicators (inside)
Anchor zink
Rear night vision camera
Electric horn
Interior design
Beautiful Alcantara ceiling
Walls synthetic leather (large color choice)
Luxury Chesterfield wall
Vinyl floor
Kitchen with two-burner gas hob + sink and refrigerator
Bedroom (2 persons) with bed including an exit to rear deck with sliding door
Guests bedroom (2 persons)
Electric toilet with macerator
Sink and shower
Technical room
Living room with kitchen
Sliding doors from the front, right and left sides
Sofa
Lights
LED-lighting inside
Front LED-floodlight
Navigation lights by all safety ship requirements
LED light focused on the water
Tanks
Clearwater tank 450 l, level indicator
Wastewater tank 450 l, level indicator
Electric water pump up to 10 l/min
Quick-silver water heater boiler 12V
Fuel tank 96l Oskulatti / level indicator
3-way valve before the waste tank
Additional equipment
2 x solar panels with charge controller 420 W
Audio FM/MP3 receiver + 4 speakers from
Outdoor kitchen(gas balloon, fridge, oven)
Side power 4,3 Kw with an extra battery
Electric anchor winch system
Double glass package
Insulation roof /walls (12/8 cm)
Heated electric floor infrared
Thruster
Water heater boiler 220V 100l (moored)
Air conditioning
Polished stainless steel anchor
More additional options are available
* Category D – Inland or sheltered coastal waters: is for boats in small lakes and rivers with winds to Force 4 and significant wave heights to 18 inches.
* Category C – the boat is a vessel built to navigate inshore such as lakes, rivers, bays and close to the shore and can sustain UP TO force 6 and waves UP TO 2 meters.